Hey Everyone,
Thanks for the interest in my guitars. They are in the production phase of the 6 strings so those should be out soon, as for the 7 we are working out the details of the Floyd low pro bridge (this will be the only 7 to have it) and it should be going into production runs any time now. For the record it will not have a barrel jack (I never liked them), it will have a Fender style jack plate on the side of the guitar that you can reverse if you like. Here is a list of specs on the guitar, I hope you guys like it.
Available to the public in a 7 and 6 string version exactly like the ones I play. I wanted this because first and foremost I primarily play and feel at home on the 7 string but play my 6 strings on stage with Megadeth.
Available at various price points. This makes a lot of sense because, some people might not need the extra features found on the USA custom but want some of the other features available, and this makes it possible. A 12″ radius neck. I have played with necks varying from perfectly flat (like my first classical guitar) to 10" radius' (Fender Strat) and feel that a 12" radius is the most ergonomic, not only for the left hand but for picking as well (the strings feel like they have a little more separation).
Stainless steel frets. These are perfect for two handed tapping and other techniques as they don't wear out and actually add a little sustain to the guitar.
Tall narrow frets. This allows for all the benefits of jumbo frets but also allows you to get your fingers in those tight areas above the 15th fret.
Quilt Maple binding. I am always a fan of natural woods and to use quilt maple as fretboard binding sets this guitar apart.
Ebony fret board. Being one of the most dense woods you can get for the fret board this adds sustain and punch to the guitar also you don't have to use dye (like on rosewood) to get that black color.
Neck thru. I was not initially a fan of the neck thru however when Jackson sent me one of their Japanese Pro models to check out I was sold, the increase in sustain was all I needed to hear to convince me I wanted it on my guitars.
Reversed Jackson headstock with quilt top. I had always liked this headstock by Jackson and was a fan of reversed headstocks so this combination was the perfect combination, also it solved the problem with 6 or 7 in line reversed headstocks where the strings would ring out on the headstock side when playing.
Planet Waves auto trim locking tuners. These are my favorite tuners they are smooth, accurate, solid and trim the string for you (even 70 guage strings!!!).
Custom Dimarzio pickups (the Fundamental) that I designed after pickups that are great but with some eq tweaking to get more of the fundamental note to pop out. I'm excited to see what people think of these.
Custom placed 3 way switch, volume with pull single coil split, tone with pull tone knob engage, and Kill switch. I spent a lot of time on the placement of the controls to make sure you could palm mute the high E and still have easy access to it to them. The combination of the pull knobs add tonal options while keeping things clean and functional.
Quilt Maple top, Mahogany back. In my mind there is no better looking and tonal combination then the blend of these two woods, and with the colors solid black with natural binding, transparent black with natural binding, blood red with transparent black binding, and transparent white with transparent black binding these guitars should suit a lot of different tastes.
Custom body shape with upper and lower horn cut away. When I designed this I had two main concepts in mind, One is that the guitar would be very ergonomic and balanced, and Two that it would look like it were in motion. Both points were achieved with the asymmetrical body design and because of that the guitar seems to become an extension of myself when I am playing.
Take care, Chris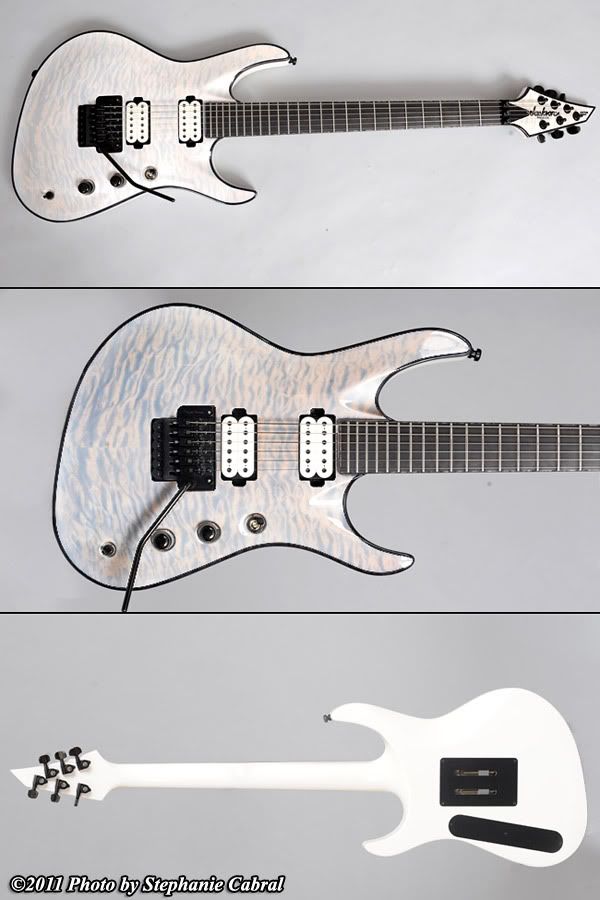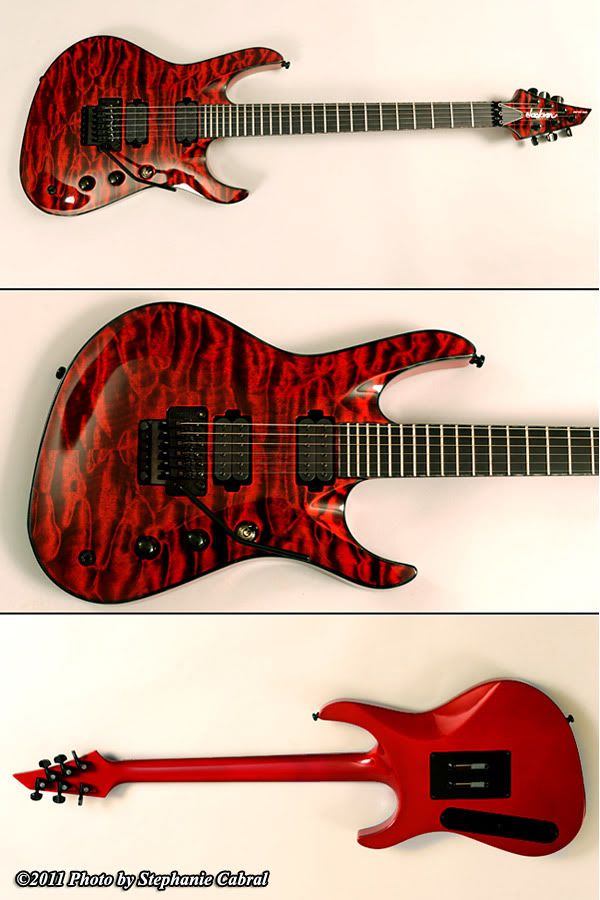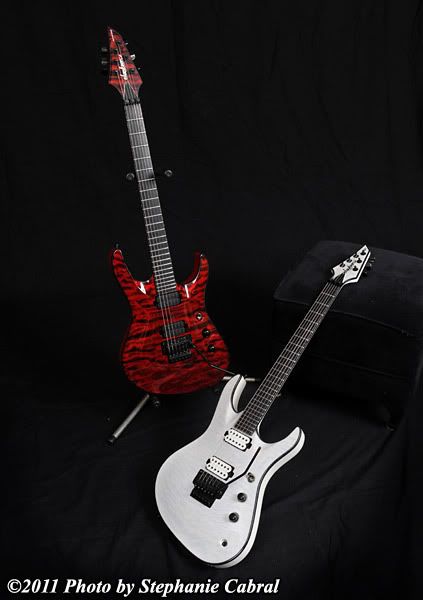 [Photo by Steph Cabral]
Megadeth guitarist Chris Broderick has issued the following update:
"Wow, what a crazy NAMM weekend. I barely know where to start.
"Well, Thursday I just popped into NAMM for an hour to get a peek at my brand new Jackson signature guitars. So far I'm totally impressed with the prototypes that were unveiled at NAMM and felt like a kid in a candy store when I first got to pick them up."
"Friday was the big NAMM Jam at the Grove that MEGADETH played. It's sort of weird to play an 'all-industry' show. It's not like playing for a packed house of MEGADETH fans, but the crowd was really great. I hear that the line to get in was around the building at 8 p. m. when they stopped letting folks in.
"What was really awesome was all the positive feedback from all of the musicians and industry friends that came out to the show.
"It's pretty nerve-racking to play for a house full of established musicians! I even had the honor of one of my classical guitar heroes, Bill Kanengiser of the L.A. GUITAR QUARTET attending the show. His first metal show ever!
"I posted a bunch of photos on my Facebook account if any of you are interested.
"Bill is the guy that isn't me, Jeff Loomis, or Rusty Cooley. Aahahaha.
"That is the great thing about the NAMM convention, though — you get to see all sorts of friends and musical heroes all in one place. I got to meet Johnny Hiland, Meesha from PERIPHERY, and Paulo and Jean from SEPULTURA, even Tony MacAlpine (one of my electric guitar heroes) came up and said hi. I talked shop with Dino from FEAR FACTORY for a bit, and then there were about a hundred other folks that I barely got to say hello to like Kerry King [SLAYER], Frank Bello [ANTHRAX], and Robb Flynn [MACHINE HEAD]. The whole event was so crazy I didn't even get to hang out with [fellow MEGADETH members] Shawn [Drover] and Dave [Mustaine] that much!
"[David] Ellefson and I did two autograph signings for Jackson (thanks to all of you who came up and said hello), and was glad to see the warm reception about my move to Jackson. I am also very excited for Ellefson's R.I.P bass (that looks great) and know he has many more awesome things planned at Jackson.
"This week I'll be heading down to Vic's [Garage, MEGADETH's studio in San Marcos, California]. I'm so excited to start making some new MEGADETH music. You never know what sort of magic Dave has up his sleeve.
"What a great week. And thanks again to all of you die-hard MEGADETH fans that make this possible."
From jacksonguitars.com:
Posted: January 10th, 2011
[Broderick, and a tantalizing glimpse of just the headstock of his new signature Soloist model.]
Megadeth fans will be excited to learn that the Jackson Custom Shop is introducing its new Chris Broderick signature guitar model in January 2011. Broderick himself worked closely with Custom Shop master craftsmen to create a distinctive guitar based on a classic Jackson design.
That guitar, the Jackson Chris Broderick Soloist™, brings his long and exacting search for instrumental excellence to a most satisfying conclusion.
"After an exhaustive search for the highest-quality instrument, I've found it at Jackson," Broderick said. "I've been looking for a guitar this incredible for quite a while, and the guys at the Custom Shop really understood what I was after and where I was coming from. I have spent countless hours ensuring that this guitar is playable and stylish."
Broderick's Soloist model boasts an unusual new touch in the form of a slightly offset carved-top body design for which the guitarist collaborated with longtime Jackson Custom Shop Master Builder Mike Shannon. Other features include dual DiMarzio® humbucking pickups and a 24-fret 12"-radius fingerboard. Further, the guitar will be available in six- and seven-string models.
The Colorado-bred Broderick is not only a formidable shred guitarist, but also an extraordinary musician in a much wider sense. He started playing at age 10, studying guitar, voice, violin and piano, and eagerly devoured a wealth of diverse musical influences extending well beyond rock into classical, jazz, blues and country forms. He earned a degree in classical guitar performance from the University of Denver's Lamont School of Music, and he himself has taught guitar for more than a dozen years.
Broderick joined Megadeth in early 2008. His molten guitar work has contributed to the band's current revitalization, including 2009 album Endgame, the American Carnage and Rust in Peace 20th Anniversary tours, and the summer 2010 Sonisphere Festival shows in Europe that featured several metallically historic Big Four shows.
Jackson's unveiling of Broderick's new signature model comes closely on the heels of the guitar maker's announcement of its partnership with Megadeth bassist David Ellefson, who received his own new signature bass model in early 2011 and who will be collaborating with Jackson on the development of other new bass models.
Hey Everyone,
I knew people would want to know why I left Ibanez, and I had the whole event written for all to read but I deleted that and don't want to focus on why it didn't work out with them. Let's just say that the events that occurred with them this last year left me feeling like my guitar company wasn't any where near as loyal to me as I was to them. For those who are curious you can read this old post that kicked things off:
Now on to the good news!!!!!! I am actually glad this happened. I talked to a lot of different guitar companies about a potential move and Jackson by leaps and bounds stepped up and was able to build a guitar that is nothing less then my perfect guitar. I spent countless design hours on it. With a double neck that I built when I was 17 being the basis for the guitar, and with Mike Shannon behind the tools, I think you guys will be impressed. There will be a press release soon enough and tons of pics and vids in the coming weeks.
I hope this answers a few questions and like I said there will be a lot of press on these guitars when they are released next week.
Take care,
Chris
Megadeth's Chris Broderick NAMM 2011 Schedule
FRIDAY, January 14th:
Megadeth's Chris Broderick signing
at Jackson Guitars Booth – 05:00pm-06:00pm
SATURDAY, January 15th:
Megadeth's Chris Broderick signing
at Jackson Guitars Booth – 02:00pm-03:00pm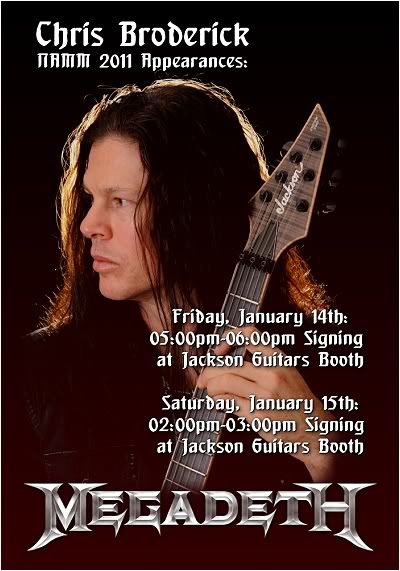 [Photo by Steph Cabral; Flyer by Ms. A]