Hey Friends,
We are both so excited and looking forward to as many of you joining us at Full Moon Resort, for our Winter Guitar Retreat, that we have some very exciting news! It's going to be an incredible event- we'll be teaching, jamming, picking, strumming, writing, and a lot more with each of you for a very special week of guitar activities and more. It will be non-stop guitar seminars and classes all day with the two of us leading every class! We will be there to teach, tell stories, hang out, and play a ton of music! We invite you to expand your knowledge of lead guitar, rhythm guitar, music history, jazz theory, chord theory, harmony, improvisation, counterpoint, composition, chord voicing's, improv, classical finger style technique, and of course heavy metal guitar. Guitarists will learn techniques to increase speed and improve tone, while hearing stories about life on the road, getting gear tips and much more. Nathan Peck (bass) and Matt "Zebar" Zebroski (drums/percussion) of Alex Skolnick Trio will be on site to provide rhythm accompaniment for jam sessions throughout the week.
Enough about the retreat, let's get to the exciting news!
We know that times are tight and we got some vibes from some of you that it's tough finding the funds to come to this incredible event… so, we've answered your concerns and slashed our prices!!! now, you can come to the Retreat for the week for less than $1000!! its a great chance to polish your chops, meet other guitarists who you'll want to stay in touch with, and have a great Holiday vacation.
If you're interested, please check out our website for more information about the camp and how to register!!!! http://www.sbwinterguitarretreat.com/
Hope to see you in December,
Chris & Alex
MEGADETH'S CHRIS BRODERICK
AND TESTAMENT'SALEX SKOLNICK
JOIN FORCES FOR FIRST ANNUAL
'SKOLNICK & BRODERICK'S WINTER GUITAR RETREAT'
AT FULL MOON RESORT IN BIG INDIAN, NY
DECEMBER 26-30
Renowned guitarists Alex Skolnick of Testament and Chris Broderick of Megadeth have joined forces to create the first annual Skolnick & Broderick's Winter Guitar Retreat. This unique experience offers a select group of guitarists of all talent levels the opportunity to expand their horizons while spending four days and five nights studying and jamming with Broderick and Skolnick in a relaxed setting at Full Moon Resort in New York's Catskill Mountains from December 26-30, 2011.
While best known for their work with Testament and Megadeth, Skolnick and Broderick are  diverse, well rounded musicians with backgrounds and training in rock, jazz, classical and blues.
Skolnick & Broderick's Winter Guitar Retreat will include master classes with Skolnick and Broderick, jam sessions, open mic nights and optional private lessons. Attendees are invited to expand their knowledge of lead guitar, rhythm guitar, music history, jazz theory, chord theory, harmony, improvisation, counterpoint, composition, chord voicings, improv (taught by Skolnick), classical fingerstyle technique (taught by Broderick), and of course heavy metal guitar. Guitarists will learn techniques to increase speed and improve tone, while hearing stories about life on the road, getting gear tips and much more. Nathan Peck (bass) and Matt "Zebar" Zebroski (drums/percussion) of the Alex Skolnick Trio will provide rhythm accompaniment for jam sessions throughout the week.
Check out a video clip of Skolnick and Broderick talking about the Winter Guitar Retreat here: http://www.youtube.com/watch?v=jCpIWgFooH8.
"I'm really looking forward to partnering with my friend Chris Broderick for our Winter Guitar Retreat," says Skolnick. "Each of us has a unique, individual approach to guitar and it's always fun to share one's experience with deserving students. Therefore, we've decided to join forces and create the ultimate post-Christmas, pre-New Year's getaway for amateur and pro guitarists alike."
Broderick concurs: "Come join Alex and myself this winter for a comprehensive look at how we view the guitar. It will not only be insightful, but relaxed and fun as well. We will cover things such as stage performance, live jam sessions, and all kinds of helpful guitar playing tips that you can utilize. I look forward to seeing you at this incredible event."
Skolnick & Broderick's Winter Guitar Retreat will provide a full vacation experience, including gourmet meals from the in-house chef. In addition, Full Moon Resort is conveniently located close to a full array of winter activities including skiing and snowboarding.
A special 10% discount for Skolnick & Broderick's Winter Guitar Retreat is available for those who register and pay in full before October 31, 2011.
For full details, go to: http://sbwinterguitarretreat.com/site/.
The Skolnick And Broderick Winter Guitar Retreat is the first Winter installment of the successful Music Masters Camp Series (www.musicmasterscamp.com/home/) held at Full Moon Resort, which has been hosted by musicians including Dweezil Zappa, Todd Rundgren, Adrian Belew, Tony Levin and Pat Mastelotto.
http://sbwinterguitarretreat.com/site/
https://www.facebook.com/#!/SkolnickBroderickWGR
https://twitter.com/#!/SkolBrodWGR
About Alex Skolnick
Alex Skolnick first picked up a guitar as a 9-year-old KISS fan, but it wasn't long before he began to carve his own path, refining the blueprint for thrash metal as lead guitarist for Testament. At the same time as Testament was carving out its niche as one of metal's most essential and enduring bands, Alex – intrigued by the later works of Miles Davis – began a parallel journey down the path of jazz. This ultimately led him to New York, where he earned a Bachelor of Fine Arts degree from The New School's jazz program in 2001. In a roundabout way, this intense study of jazz led him straight back to his original inspiration: Alex Skolnick Trio, formed during his time at The New School, opened its 2002 debut album Goodbye to Romance: Standards for a New Generation with a radical reinterpretation of KISS' "Detroit Rock City." The trio's latest release, Veritas, released earlier this year by the esteemed jazz label Palmetto Records, reached the Top 10 on iTunes' jazz charts. Along the way, Alex has played with the platinum-selling Trans-Siberian Orchestra, delved into producing, and his SkolNotes blog can be read regularly at alexskolnick.com/SkolNotes. Meanwhile, after an extended hiatus Alex rejoined Testament in 2005, and the band continues to break new ground. Testament's most recent CD, 2008's The Formation of Damnation (Nuclear Blast), was the band's highest charting album to date on the Billboard Top 200. Testament's Dark Roots Of Earth is due out in 2012.
About Chris Broderick
For nearly four years, Chris Broderick has shared lead and rhythm guitar duties for "Big 4" heavy metal legends Megadeth. His first album with the band, 2009's Endgame, featured the Grammy-nominated single "Head Crusher." Megadeth's song "Sudden Death" from Guitar Hero: Warriors Of Rock–and set to appear on the band's forthcoming TH1RT3EN CD–was also Grammy nominated. TH1RT3EN will be released November 1, 2011 via Roadrunner Records. Previously, Chris built his reputation as one of the genre's preeminent shredders with Jag Panzer and as touring guitarist for Nevermore. While he may be best known for his blistering solos, his styles include a broad range: classical, rock, blues and jazz. Both student and teacher of the instrument, Chris has been playing guitar since he was 11 years old – taking his first lessons at age 14 – and teaching for the past 16 years. He has a degree in Classical Guitar Music Performance from the University of Denver's Lamont School of Music, and has performed in many master classes including those given by David Russell, Benjamin Verdery, and his primary instructor Ricardo Iznaola. In addition, Chris has studied jazz improvisation and chord voicing, advanced music theory, and sight-reading.
About Full Moon Resort
Full Moon Resort in Big Indian, NY is a year-round mountain facility located in the heart of the "Forever Wild" Catskill Forest Preserve in upstate New York, 30 minutes west of Woodstock, and only fifteen minutes from Belleayre Mountain, a premier family ski center in the Catskill Mountains. Dedicated to the celebration of nature, music and the arts, the resort features over one hundred acres of fields, meadows, mountains, forests and streams. Driving time from New York City is only two and a half hours, and airports in Albany and Newburgh, NY are just a 90 minute drive.
OCT 18 Music Zoo – Roslyn, NY – 7PM locally
OCT 19 Custom, Metal & Classic Guitars – Vineland, NJ – 7PM locally
OCT 20 Sweetwater – Fort Wayne, IN – 7PM locally
OCT 25 Spotlight Music – Ft. Collins, CO – 6PM locally
OCT 26 Bizarre Guitar – Reno, NV – 6:30 PM locally
OCT 27 Guitar Trader – San Diego, CA – 6 PM locally
Hey Everyone,
Thanks for the interest in my guitars. They are in the production phase of the 6 strings so those should be out soon, as for the 7 we are working out the details of the Floyd low pro bridge (this will be the only 7 to have it) and it should be going into production runs any time now. For the record it will not have a barrel jack (I never liked them), it will have a Fender style jack plate on the side of the guitar that you can reverse if you like. Here is a list of specs on the guitar, I hope you guys like it.
Available to the public in a 7 and 6 string version exactly like the ones I play. I wanted this because first and foremost I primarily play and feel at home on the 7 string but play my 6 strings on stage with Megadeth.
Available at various price points. This makes a lot of sense because, some people might not need the extra features found on the USA custom but want some of the other features available, and this makes it possible. A 12″ radius neck. I have played with necks varying from perfectly flat (like my first classical guitar) to 10" radius' (Fender Strat) and feel that a 12" radius is the most ergonomic, not only for the left hand but for picking as well (the strings feel like they have a little more separation).
Stainless steel frets. These are perfect for two handed tapping and other techniques as they don't wear out and actually add a little sustain to the guitar.
Tall narrow frets. This allows for all the benefits of jumbo frets but also allows you to get your fingers in those tight areas above the 15th fret.
Quilt Maple binding. I am always a fan of natural woods and to use quilt maple as fretboard binding sets this guitar apart.
Ebony fret board. Being one of the most dense woods you can get for the fret board this adds sustain and punch to the guitar also you don't have to use dye (like on rosewood) to get that black color.
Neck thru. I was not initially a fan of the neck thru however when Jackson sent me one of their Japanese Pro models to check out I was sold, the increase in sustain was all I needed to hear to convince me I wanted it on my guitars.
Reversed Jackson headstock with quilt top. I had always liked this headstock by Jackson and was a fan of reversed headstocks so this combination was the perfect combination, also it solved the problem with 6 or 7 in line reversed headstocks where the strings would ring out on the headstock side when playing.
Planet Waves auto trim locking tuners. These are my favorite tuners they are smooth, accurate, solid and trim the string for you (even 70 guage strings!!!).
Custom Dimarzio pickups (the Fundamental) that I designed after pickups that are great but with some eq tweaking to get more of the fundamental note to pop out. I'm excited to see what people think of these.
Custom placed 3 way switch, volume with pull single coil split, tone with pull tone knob engage, and Kill switch. I spent a lot of time on the placement of the controls to make sure you could palm mute the high E and still have easy access to it to them. The combination of the pull knobs add tonal options while keeping things clean and functional.
Quilt Maple top, Mahogany back. In my mind there is no better looking and tonal combination then the blend of these two woods, and with the colors solid black with natural binding, transparent black with natural binding, blood red with transparent black binding, and transparent white with transparent black binding these guitars should suit a lot of different tastes.
Custom body shape with upper and lower horn cut away. When I designed this I had two main concepts in mind, One is that the guitar would be very ergonomic and balanced, and Two that it would look like it were in motion. Both points were achieved with the asymmetrical body design and because of that the guitar seems to become an extension of myself when I am playing.
Take care, Chris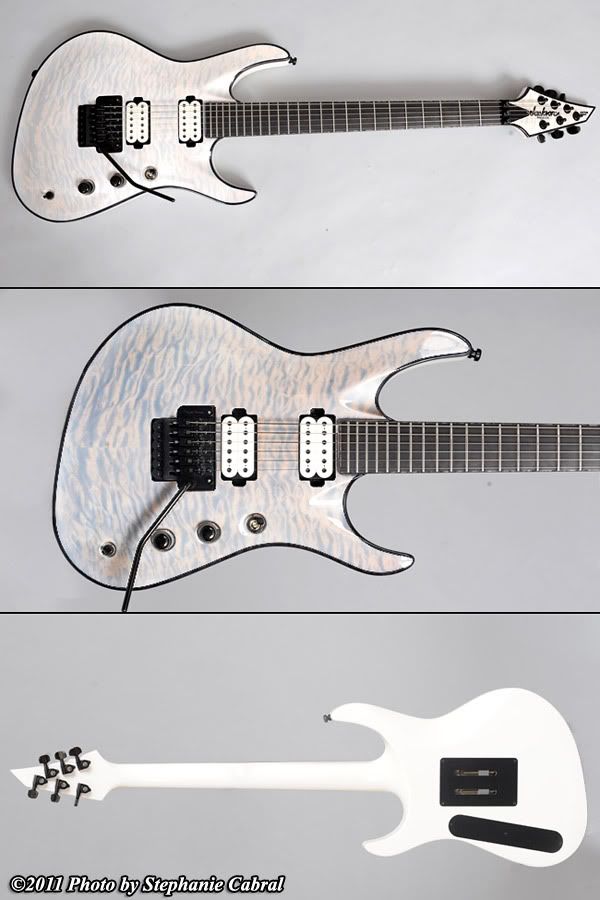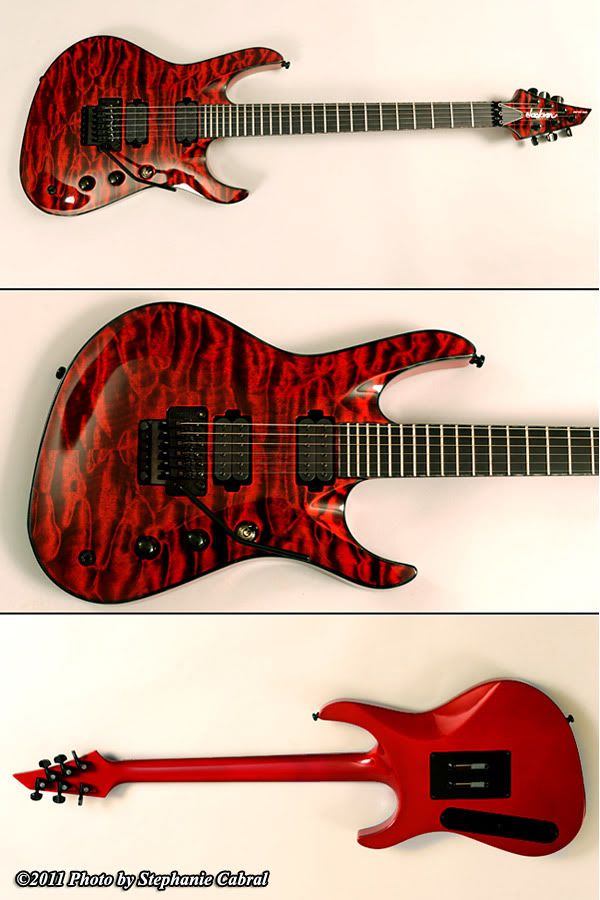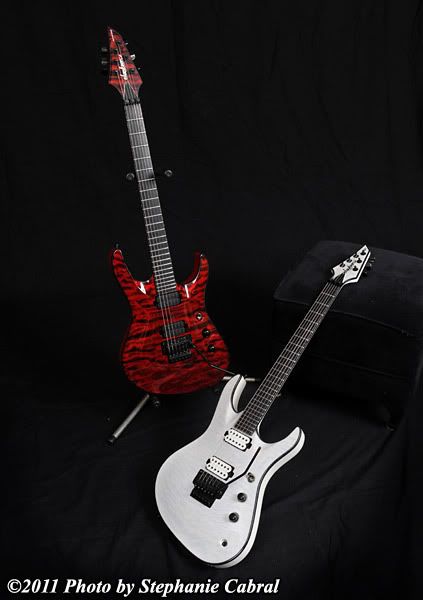 [Photo by Steph Cabral]
Megadeth guitarist Chris Broderick has issued the following update:
"Wow, what a crazy NAMM weekend. I barely know where to start.
"Well, Thursday I just popped into NAMM for an hour to get a peek at my brand new Jackson signature guitars. So far I'm totally impressed with the prototypes that were unveiled at NAMM and felt like a kid in a candy store when I first got to pick them up."
"Friday was the big NAMM Jam at the Grove that MEGADETH played. It's sort of weird to play an 'all-industry' show. It's not like playing for a packed house of MEGADETH fans, but the crowd was really great. I hear that the line to get in was around the building at 8 p. m. when they stopped letting folks in.
"What was really awesome was all the positive feedback from all of the musicians and industry friends that came out to the show.
"It's pretty nerve-racking to play for a house full of established musicians! I even had the honor of one of my classical guitar heroes, Bill Kanengiser of the L.A. GUITAR QUARTET attending the show. His first metal show ever!
"I posted a bunch of photos on my Facebook account if any of you are interested.
"Bill is the guy that isn't me, Jeff Loomis, or Rusty Cooley. Aahahaha.
"That is the great thing about the NAMM convention, though — you get to see all sorts of friends and musical heroes all in one place. I got to meet Johnny Hiland, Meesha from PERIPHERY, and Paulo and Jean from SEPULTURA, even Tony MacAlpine (one of my electric guitar heroes) came up and said hi. I talked shop with Dino from FEAR FACTORY for a bit, and then there were about a hundred other folks that I barely got to say hello to like Kerry King [SLAYER], Frank Bello [ANTHRAX], and Robb Flynn [MACHINE HEAD]. The whole event was so crazy I didn't even get to hang out with [fellow MEGADETH members] Shawn [Drover] and Dave [Mustaine] that much!
"[David] Ellefson and I did two autograph signings for Jackson (thanks to all of you who came up and said hello), and was glad to see the warm reception about my move to Jackson. I am also very excited for Ellefson's R.I.P bass (that looks great) and know he has many more awesome things planned at Jackson.
"This week I'll be heading down to Vic's [Garage, MEGADETH's studio in San Marcos, California]. I'm so excited to start making some new MEGADETH music. You never know what sort of magic Dave has up his sleeve.
"What a great week. And thanks again to all of you die-hard MEGADETH fans that make this possible."