Chris Broderick NAMM 2014 Appearance on January 25th, 2:00pm @ the Fender Booth, Ballroom E, 3rd Floor, Anaheim Convention Center [photo by: Stephanie Cabral; flyer by: Ms. A]
Chris and his Jackson Chris Broderick Pro Series Soloist™ 6 & 7 at NAMM 2013
[Photo by: Stephanie Cabral Photography]
Flyer design by: Ms. A
Photo by: Stephanie Cabral Photography
Megadeth guitarist Chris Broderick has issued the following update:
"Wow, what a crazy NAMM weekend. I barely know where to start.
"Well, Thursday I just popped into NAMM for an hour to get a peek at my brand new Jackson signature guitars. So far I'm totally impressed with the prototypes that were unveiled at NAMM and felt like a kid in a candy store when I first got to pick them up."
"Friday was the big NAMM Jam at the Grove that MEGADETH played. It's sort of weird to play an 'all-industry' show. It's not like playing for a packed house of MEGADETH fans, but the crowd was really great. I hear that the line to get in was around the building at 8 p. m. when they stopped letting folks in.
"What was really awesome was all the positive feedback from all of the musicians and industry friends that came out to the show.
"It's pretty nerve-racking to play for a house full of established musicians! I even had the honor of one of my classical guitar heroes, Bill Kanengiser of the L.A. GUITAR QUARTET attending the show. His first metal show ever!
"I posted a bunch of photos on my Facebook account if any of you are interested.
"Bill is the guy that isn't me, Jeff Loomis, or Rusty Cooley. Aahahaha.
"That is the great thing about the NAMM convention, though — you get to see all sorts of friends and musical heroes all in one place. I got to meet Johnny Hiland, Meesha from PERIPHERY, and Paulo and Jean from SEPULTURA, even Tony MacAlpine (one of my electric guitar heroes) came up and said hi. I talked shop with Dino from FEAR FACTORY for a bit, and then there were about a hundred other folks that I barely got to say hello to like Kerry King [SLAYER], Frank Bello [ANTHRAX], and Robb Flynn [MACHINE HEAD]. The whole event was so crazy I didn't even get to hang out with [fellow MEGADETH members] Shawn [Drover] and Dave [Mustaine] that much!
"[David] Ellefson and I did two autograph signings for Jackson (thanks to all of you who came up and said hello), and was glad to see the warm reception about my move to Jackson. I am also very excited for Ellefson's R.I.P bass (that looks great) and know he has many more awesome things planned at Jackson.
"This week I'll be heading down to Vic's [Garage, MEGADETH's studio in San Marcos, California]. I'm so excited to start making some new MEGADETH music. You never know what sort of magic Dave has up his sleeve.
"What a great week. And thanks again to all of you die-hard MEGADETH fans that make this possible."
Megadeth's Chris Broderick NAMM 2011 Schedule
FRIDAY, January 14th:
Megadeth's Chris Broderick signing
at Jackson Guitars Booth – 05:00pm-06:00pm
SATURDAY, January 15th:
Megadeth's Chris Broderick signing
at Jackson Guitars Booth – 02:00pm-03:00pm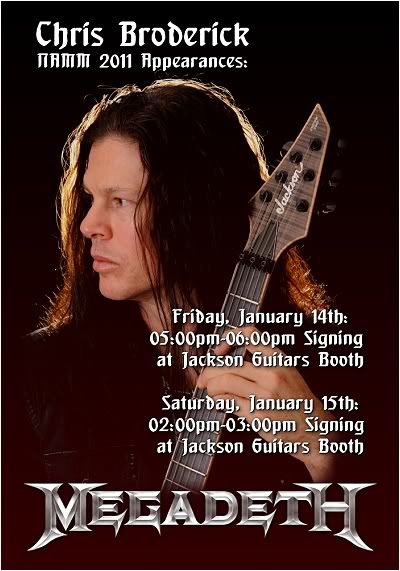 [Photo by Steph Cabral; Flyer by Ms. A]